High Rochester Roman fort (Rochester and Byrness)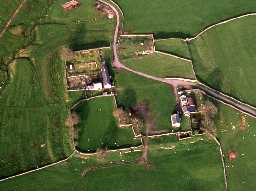 Aerial view of High Rochester Roman fort. Photo © Tim Gates.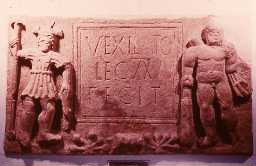 Inscription of the 20th Legion, High Rochester. Copyright Reserved: Museum of Antiquities, Newcastle upon Tyne.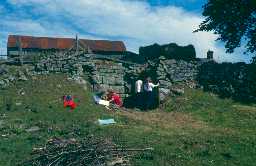 A gateway at High Rochester Roman fort being surveyed by Newcastle University students in 1993. Photo by Northumberland County Council.
The Roman fort at High Rochester was known in Roman times as Bremenium. It developed over several hundred years, but the first fort built here dates to the time of Agricola (AD78-85). A larger fort was built here during the Antonine period (AD139 to the late second century) and this in turn was replaced in the Severan period (early third to late third century AD). Its final phase was in the time of the emperor Constantine, between about AD306 and the mid fourth century. Quite a few excavations have been carried out here in the 19th and 20th centuries providing information about the development of the fort and the people who lived here. Work in the 1990s has also used geophysical survey to locate features such as an aqueduct and Dere Street Roman road. Today, there are still impressive parts of the fort wall and gateways to be seen. This is a Scheduled Monument and Grade II Listed Building protected by law.
Reference number:
N8091
Historical period:
Roman (43 to 410)
Legal status:
Listed Building
Scheduled Ancient Monument

Event(s):
TOPOGRAPHIC SURVEY, High Rochester 1992; University of Newcastle
GEOPHYSICAL SURVEY, "Geomagnetic Survey" and "Resistivity Survey" [of High Rochester fort environs] 1993; GeoQuest Associates
GEOPHYSICAL SURVEY, High Rochester 1993; University of Newcastle
DESK BASED ASSESSMENT, High Rochester Fort: a documentary assessment of post-Roman occupation 1996; The Archaeological Practice
GEOPHYSICAL SURVEY, A Geophysical Survey at High Rochester Roman Fort 2003; Timescape Archaeological Surveys
TRIAL TRENCH, High Rochester Roman Fort 2010; The Archaeological Practice Ltd
See also:
Source of Reference
Local History of Rochester and Byrness
Disclaimer -
Please note that this information has been compiled from a number of different sources. Durham County Council and Northumberland County Council can accept no responsibility for any inaccuracy contained therein. If you wish to use/copy any of the images, please ensure that you read the Copyright information provided.