Howick Haven Mesolithic settlement (Longhoughton)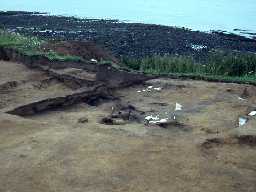 Excavations at Howick Haven. Photo by Alastair Barclay.
The discovery of pieces of flint along the coastal path at Howick in the 1980s and 1990s led to an excavation here between 2000 and 2002. Archaeologists discovered remains of a Mesolithic hut, dated by carbon 14 dating to about 7800BC. It was revealed as stains in the sand from fallen timbers, as well as post holes, stakeholes, stone post-pads, and construction slots. In the centre of the hut was a sequence of intercutting hearth pits, in which a rich assemblage of burnt food remains were found, including hundreds of thousands of charred hazelnut shells. Other finds from the hut include over 13,000 flints, with microliths, scrapers, awls, burins, retouched flakes and blades, cores and debitage present. A few pieces of burnt bone were found from animals such as wild pig, fox, a dog or wolf, and possibly even a brown bear.
As well as the Mesolithic settlement, a group of five Early Bronze Age cist burials were found in the excavations. These stone-lined boxes were covered with local sandstone capstones and contained only a few fragments of bone.
A detailed report of all the works at Howick has been published in 2007.
Reference number:
N5690
Historical period:
Early Bronze Age (2600BC to 1600BC)
Mesolithic (10000BC to 4000BC)
Event(s):
MAGNETOMETRY SURVEY, Howick mesolithic site 2000; Timescape Surveys
SYSTEMATIC FIELDWALKING SURVEY, Howick Archaeology Project. Fieldwalking report 2000; HOWICK ARCHAEOLOGY PROJECT
TEST PIT, Howick mesolithic site 2002; C Waddington
MAGNETOMETRY SURVEY, Howick Haven 2002; TIMESCAPE ARCHAEOLOGICAL SURVEYS
TEST PIT, Howick Archaeology Project ; HOWICK ARCHAEOLOGY PROJECT
See also:
Source of Reference
Local History of Longhoughton
Disclaimer -
Please note that this information has been compiled from a number of different sources. Durham County Council and Northumberland County Council can accept no responsibility for any inaccuracy contained therein. If you wish to use/copy any of the images, please ensure that you read the Copyright information provided.