Warkworth Castle (Warkworth)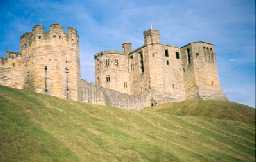 Warkworth Castle. Photo by Northumberland County Council.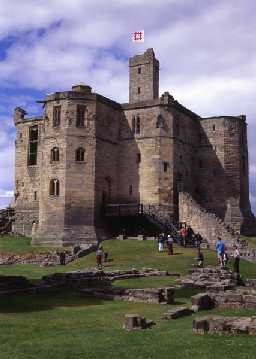 Warkworth Castle (Copyright © Don Brownlow)
The earliest castle at Warkworth was an 11th century motte and bailey, though very few remains of this early work can be seen. In the mid-12th century a stone wall was built around the site. A new stone hall was also built, and in the late 12th or early 13th century the timber keep was replaced by a masonry keep. Only the remains of this stone tower can be seen. This was replaced in the early 15th century by a second stone tower, which can still be seen. This stone tower was repaired by the fourth Duke of Northumberland, between 1853 and 1858. It has a dungeon in the basement. On the first floor there is a hall, a chapel, a kitchen and its walls contain cupboards and ventilation shafts. The second floor also has several domestic rooms. Rising high above the second floor, at the centre of the keep, is the Lookout Turret, which contains three further rooms. To the south of the keep, on the opposite side of the ditch between the motte and bailey, are the foundations of an early 15th century church. The upper part of the church was never built, though cellars under it were used as storerooms. The castle was occupied until the 1570s. Building material was stolen from the site in the 16th and 17th centuries, and the castle remained uncared for, until the mid-19th century, when the Duke of Northumberland repaired it. It was one of the strongest castles in the north of England. It is a Grade I Listed Building and a Scheduled Monument protected by law.
Reference number:
N5404
Historical period:
Victorian (1837 to 1901)
Medieval (1066 to 1540)
Legal status:
Conservation area
Listed Building
Scheduled Ancient Monument

Event(s):
EXCAVATION, An excavation at Warkworth Castle, Northumberland, 1966 1966
FIELD OBSERVATION, Ordnance Survey Archaeology Division Field Investigation 1971; B H Pritchard
EVALUATION, Warkworth Castle Visitor Centre 1997; Tyne and Wear Museums
DESK BASED ASSESSMENT, Potential Parking Area on Land at Warkworth Castle 1998; The Archaeological Practice
TRIAL TRENCH, Warkworth Castle visitor centre, Northumberland. Report on the second phase of archaeological evaluation, 1998 1998; TYNE AND WEAR MUSEUMS
WATCHING BRIEF, An archaeological watching brief at Warkworth Castle 1999; TYNE AND WEAR MUSEUMS
WATCHING BRIEF, A watching brief at Warkworth Castle 1999; TYNE AND WEAR MUSEUMS
BUILDING SURVEY, Warkworth Castle 2001; TYNE AND WEAR MUSEUMS
WATCHING BRIEF, Warkworth Castle 2001; TYNE AND WEAR MUSEUMS
TIMBER SAMPLING, Grey Mare's Tail Tower, Warkworth Castle, Warkworth, near Alnwick, Northumberland: Scientific Dating of Timbers 2006; English Heritage
HERITAGE ASSESSMENT, English Heritage Coastal Estate: risk assessment 2011; English Heritage
WATCHING BRIEF, Watching brief at Warkworth Castle 2016; AD Archaeology Ltd
WATCHING BRIEF, Archaeological watching brief at Warkworth Castle 2016; AD Archaeology Ltd
See also:
Source of Reference
Local History of Warkworth
Disclaimer -
Please note that this information has been compiled from a number of different sources. Durham County Council and Northumberland County Council can accept no responsibility for any inaccuracy contained therein. If you wish to use/copy any of the images, please ensure that you read the Copyright information provided.