Berwick Town Defences (Berwick upon Tweed)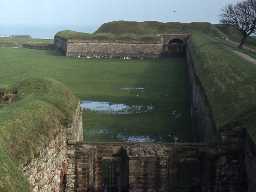 Berwick's Elizabethan defences. Photo by Harry Rowland.
The medieval and post-medieval fortifications at Berwick make it one of the best examples of a fortified town in Europe. The medieval walls were begun by King Edward I in the late 13th century and surrounded the town with the castle as its north-west corner. Stone walls with towers were built and on the north and east sides a large moat was added. During the many wars with Scotland the defences were frequently in a bad state and often needed mending.

From the 16th century onwards guns and canons became more important as weapons of war. This meant that the defences had to be altered, and in the early 16th century a large earth bank was built behind the wall to give it added strength. A number of earth bulwarks were also built surrounding the town.

In 1558, during the rule of Queen Mary, new walls were begun using the latest Italian designs. Most of the work, however, was carried out during the rule of Queen Elizabeth. Much of the defences were never completed, and work stopped in 1569. A series of large stone bastions, were built as platforms for canons. These were linked together by a large stone wall. On the southern side a large ditch was also dug in an attempt to cut the town off from the mainland. Further defences and guns were added in the 18th and 19th centuries. These defences provide a complete example of all major developments in military building and defences for a period of over 700 years. They are a Scheduled Monument and a Grade I listed building protected by law.
Reference number:
N2426
Historical period:
Post Medieval (1540 to 1901)
Medieval (1066 to 1540)
Legal status:
Conservation area
Listed Building
Scheduled Ancient Monument

Event(s):
EXCAVATION, The Elizabethan fortifications of Berwick-upon-Tweed 1962
FIELD OBSERVATION, Ordnance Survey Archaeology Division Field Investigation 1967; E C Waight
WATCHING BRIEF, The Archaeology of Berwick Quayside 1994
TRIAL TRENCH, Holy Trinity Middle School, Berwick-upon-Tweed 2000; LANCASTER UNIVERSITY ARCHAEOLOGICAL UNIT
RESISTIVITY SURVEY, The Stanks, Berwick 2002; BORDER ARCHAEOLOGICAL SOCIETY
TRIAL TRENCH, Berwick-upon-Tweed Defences. Evaluation Data Structure Report 2006; Headland Archaeology
DESK BASED ASSESSMENT, Castlegate Carpark, Berwick-upon-Tweed 2007; Headland Archaeology
WATCHING BRIEF, John Dewar's Granary development 2010; Bamburgh Research Project
WATCHING BRIEF, Pier Road Maltings, Pier Road 2010; North Pennines Archaeology Ltd
WATCHING BRIEF, Watching Brief at Castlegate Overflow Car Park, Berwick-upon-Tweed 2011; Pre-Construct Archaeology
HERITAGE ASSESSMENT, English Heritage Coastal Estate: risk assessment 2011; English Heritage
WATCHING BRIEF, Berwick Ramparts 2013; TWM Archaeology
WATCHING BRIEF, Quay Walls, Berwick-upon-Tweed 2014; Gerry Martin Associates Ltd
WATCHING BRIEF, Lord's Mount, Berwick 2014; Archaeological Research Services
EVALUATION, Lord's Mount, Berwick 2014; Archaeological Research Services
WATCHING BRIEF, Archaeological watching brief at 21 Bell Tower Park, Berwick-upon-Tweed 2016; Bamburgh Research Project
WATCHING BRIEF, 76 Ravensdowne tree-bole excavations 2018; The Archaeological Practice Ltd
See also:
Source of Reference
Local History of Berwick upon Tweed
Disclaimer -
Please note that this information has been compiled from a number of different sources. Durham County Council and Northumberland County Council can accept no responsibility for any inaccuracy contained therein. If you wish to use/copy any of the images, please ensure that you read the Copyright information provided.