Local History
Beamish (County Durham)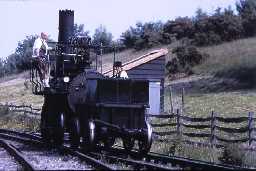 Beamish © DCC 2007
Beamish lies to the east of Stanley. Like several other sites in Durham the village name is French in origin, meaning 'beautiful mansion' (bewmys). It was first recorded in 1287, and suggests that the settlement was probably founded by the Normans. Few remains from the earliest period of history survive, a single flint tool of prehistoric date has been found.

No surviving Roman or Anglo-Saxon sites are known, and only one medieval building is known. This is the site of a medieval fortified tower house at Pockerley, which recent analysis has shown to date from around 1441. This defensive building is reminder of the violence of the medieval north-east, with raids from Scotland reaching well south of the Tyne.

Another important building nearby is Beamish Hall. The oldest part of the hall was built in 1620, but there was probably an earlier building as the park is recorded here since 1572. It was extended between 1890 and 1909. Between 1953 and 1967 it was the headquarters of the National Coal Board. Many famous people have lived in Beamish Hall, including the former Prime Minister Sir Anthony Eden, and Bobby Shaftoe of song fame. It is now a private hotel.

In the post-medieval period, Beamish became a hive of industrial activity. A flint mill ground the flint used in Sunderland Ware pottery, whilst there were several area of ironworking along the Urpeth Burn. However, the most important industry was coal mining, and one of the winding engines is still visible.

The most important part of Beamish today is the museum. This was founded in 1970, with the aim of bringing to life the social and industrial life of the North East of England. Its large grounds include the old colliery village, Beamish Hall and the farm at Pockerley.

Disclaimer -
Please note that this information has been compiled from a number of different sources. Durham County Council and Northumberland County Council can accept no responsibility for any inaccuracy contained therein. If you wish to use/copy any of the images, please ensure that you read the Copyright information provided.