Auckland Castle, Bishop Auckland (Bishop Auckland)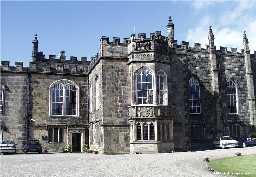 Auckland Castle, Bishop Auckland (2001) (photo Mike Hein-Hartmann) 2006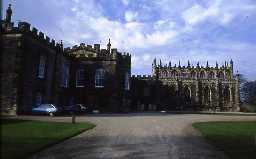 Auckland Castle, Bishop Auckland © DCC 2007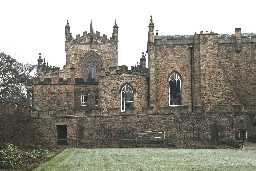 Auckland Castle, Bishop Auckland © Ryder, P 2006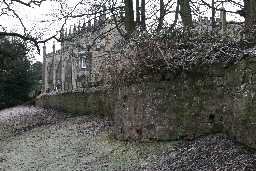 Auckland Castle, Bishop Auckland © Ryder, P 2006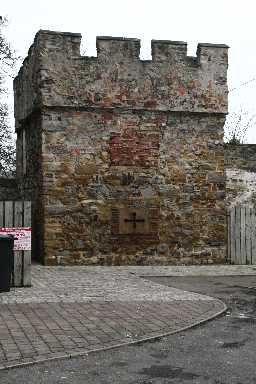 Auckland Castle, Bishop Auckland © Ryder, P 2006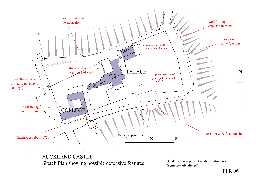 Auckland Castle, Bishop Auckland © Ryder, P 2006
Auckland Castle, Bishop Auckland © Ryder, P 2006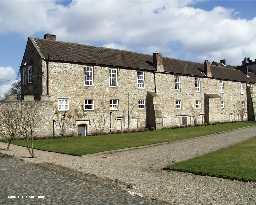 Auckland Castle, Bishop Auckland © DCC 2001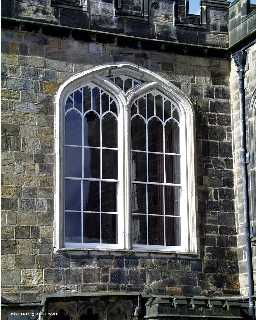 Auckland Castle © DCC 2006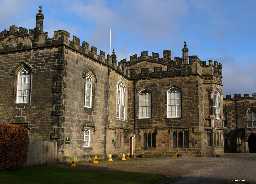 Auckland Castle, Bishop Auckland © DCC 2006
Bishop Auckland was the site of one of the homes of the Bishops of Durham. Towards the end of the medieval period the Palace or Castle at Bishop Auckland became the Prince Bishops of Durham principal country residence, and remains the home of the Bishop of Durham today. The Cuthbert Community at Durham had owned land in the Auckland from a very early date, and by 1183, the date of the Boldon Book, it is clear that Bishop Auckland had long been an episcopal residence, although the house was always termed a manor until a 1489 reference to the 'Castel or Manor of Auckland'. It seems clear that the buildings were enclosed within some sort of perimeter wall; an account roll for the fifth year of Bishop Richard de Bury (1337-1338) recorded payments for work on 'the great stone wall on the west side of the Manor House' and there are records of the main gatehouse being built by Bishop Skirlaw (1388-1405) and rebuilt by Bishop Booth (1457-1476), who founded a college within the precincts, and again by Bishop Trevor (1732-1771). The greatest changes suffered by the house came with the English Civil War, when parts of the building, including its chapels, were demolished by Sir Arthur Haslerigg. The first post-Restoration bishop was the redoubtable John Cosin, who refashioned the former hall as a new chapel.
After the English Civil War, this castle was sold to Sir Arthur Haselrigg, who pulled down the chapel and built a mansion house, which itself was pulled down in the late 17th century. The walls would also appear to have been destroyed during Hasleriggs' brief but destructive tenure.
This castle stands on a promontory site above the confluence of the Rivers Wear and Gaunless, to the east of the town of Bishop Auckland, and its precinct forms a roughly rectangular area approximately 300 by 160 m, in the centre of which stand the irregular group of buildings that make up the house. There is a central north-south block which is of 14th century date although quite heavily disguised by later alterations; at the north end of this is the aisled hall of late 12th or early 13th century date, and since the 17th century the Chapel of St Peter. Some remains of a service wing at its east end are now incorporated into terrace and garden walls. Towards the south end of the main north-south block a long and narrow wing known as 'Scotland', extending to the west, is usually claimed to be of early 16th century date.
Some archaeological investigation has been conducted here in the recent past, but records of it are hard to trace. Archaeological Excavation in 1979-83 revealed evidence of what appeared to be a south porch to the original hall, and a 15th century fireplace inside it, but there is still more to learn about the site.
More recently, work has been carried out as the site has been developed as a visitor attraction.
Reference number:
D1386
Historical period:
Early Medieval (410 to 1066)
Tudor (1485 to 1603)
Elizabethan (1558 to 1603)
Stuart (1603 to 1714)
Georgian (1714 to 1830)
Late 20th Century (1967 to 2000)
Cold War (1946 to 1991)
Medieval (1066 to 1540)
Legal status:
Listed Building
• National Heritage List for England Entry Number: 1196444
Registered Park or Garden of Historic Interest
• National Heritage List for England Entry Number: 1000727
Event(s):
Defensible Buildings in County Durham Survey 2005 - 2006; Peter Ryder, Historic Building Consultant
Evaluation at Auckland Castle Chapel 1995; Archaeological Services University of Durham
Bishop Auckland Historic Town Survey 1976; Advisory Committee of the Northern Archaeological Survey
Watching Brief at the Bishop's Office, Auckland Castle, Bishop Auckland 2012; Archaeological Services Durham University
Building recording at the Scotland Wing, Auckland castle, County Durham 2014; Archaeological Services Durham University
Investigation under floors at Auckland Castle, Bishop Auckland, County Durham 2014; Archaeological Services Durham University
Auckland Castle Conservation plan 2011; Alan Baxter & Associates LLP
Building Assessment at the Palace Chapel, Bishop Auckland 2005; Peter F Ryder
Evaluation at Auckland Castle Energy Centre, Bishop Auckland, County Durham 2016; Archaeological Services Durham University
Excavation and monitoring at Auckland Castle Energy Centre, Bishop Auckland, County Durham, 2016 - 2017; Archaeological Services Durham University
See also:
Source of Reference
Local History of Bishop Auckland
Disclaimer -
Please note that this information has been compiled from a number of different sources. Durham County Council and Northumberland County Council can accept no responsibility for any inaccuracy contained therein. If you wish to use/copy any of the images, please ensure that you read the Copyright information provided.